Renée Spencer D-LTO-061
Renée Spencer D-LTO-061 ist eine Luftfahrtbundesamt (LBA)-anerkannte Sprachprüfungsorganization mit Sitz in Deutschland und qualifiziert, um ICAO-Sprachprüfungen für Englisch Stufe 4 5 und 6 abzunehmen.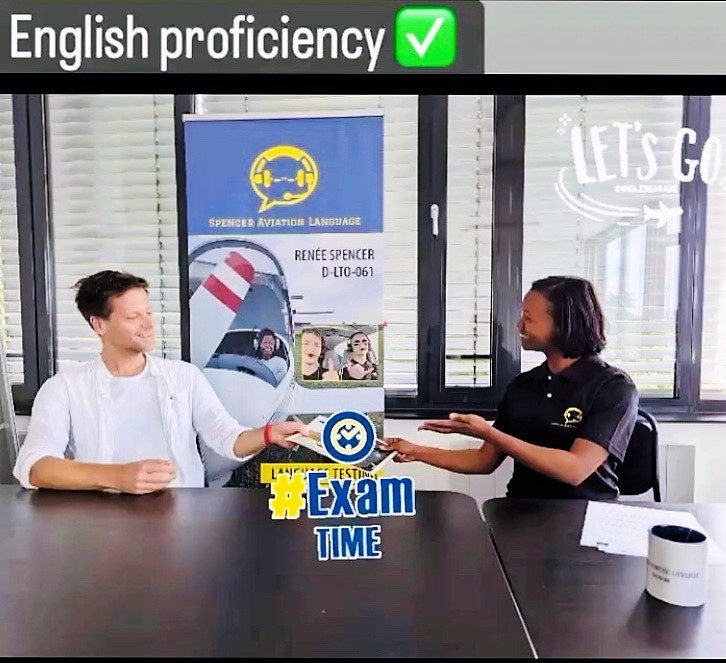 Stufe 4 - Gültigkeit 4 Jahre
ICAO Level 4 ist die Mindestsprachkompetenz, die für das Fliegen im internationalen Luftverkehr in allen Ländern der Welt erforderlich ist. Ihre Sprachkenntnisse gelten als ausreichend, wenn sie mindestens Level 4 entsprechen. Das Operational Level (ICAO Level 4) ist ebenfalls erforderlich, um die englische Sprache für R/T-Zwecke (Radio Telephony) verwenden zu dürfen.
Stufe 5 - Gültigkeit 6 Jahre
ICAO Level 5 ist zwischen den Mindestanforderungen (Level 4) und dem Expertenlevel (Level 6) angesiedelt. Dieses Niveau ist besonders wünschenswert für diejenigen, die eine Karriere in der Luftfahrt anstreben. Die Anforderungen und Erwartungen sind für Prüfungen der Stufe 5 anspruchsvoller.
Stufe 6 - Unbefristet
ICAO Level 6 ist das maximal erreichbare Sprachniveau. Stufe 6 gilt als Expertenstufe der ICAO. Die Anforderungen und Erwartungen an dieses Level sind sehr hoch und speziell geeignet für Personen mit sehr guten Englischkenntnissen.
UNSER team
Qualifiziert, professionell und freundlich
Prüfungsformat nach strengen Kriterien, hochwertiger Ausstattung und exzellenter Lage. Nur ein paar Gründe, warum Ihre Englisch-Sprachprüfung bei Spencer Aviation Language D-LTO-061 Renée Spencer in den besten Händen ist. Wir stellen sicher, dass Ihr Prüfungsprozess in einer entspannten Atmosphäre von einem professionellen und freundlichen Team durchgeführt wird.
QUICK FACTS
Warum D-LTO-061?
Warum Ihre Sprachprüfung bei uns in guten Händen ist...
Follow us on the Social
See what we are up to. Get the latest info, tips and insight.
TESTIMONIALS
What our clients say
Excellent service, Professional Examiners!!
Can only recommend this Testing Organisation! I was helped quickly and, above all, professionally to revalidate my English Language Proficiency.